Products
Posts are packed 25 per bundle,
80 bundles per pallet.

7/16'' diameter post is undersized.

* 7/16'' posts are packed 20 per bundle,
50 bundles per pallet, 1000 posts per pallet.

Electric Fence Posts
ITEM
SIZE
Profile Posts
5/16'' x 4'
Smooth Round Posts
5/16'' x 4'
Profile Posts
7/16'' x 4'
Smooth Round Posts *
7/16'' x 4'
Profile Posts
3/8'' x 4'
Smooth Round Posts
3/8'' x 4'
Electric Fence Posts are manufactured in Texas. We have several options to choose from so you're sure to find the exact product to meet your needs. Our painted fence posts are painted in a red color to ensure the highest visibility possible. If you're looking for something more immediate, please contact us to inquire about our large stock that we keep in our warehouse available for immediate delivery.
Sizes range from 5/16" up to 7/16" with overall length 4' or 5'. Posts are available in profiled or smooth finish, painted and unpainted and with or without spade.

Other Erosion Control Products
ITEM
SIZE
T-post Stakes
Call for Availability
Welded Wire Mest
Call for Availability
Custom Wire Forming
Call for Availability
Rebar Pins
Call for Availability
Staples, Edging Pins, Stakes, Aluminum Hook Ties and various other wire forms. Wire diameters range from 12 gauge to 8 gauge Galvanized and Bright Basic and lengths up to 12". Please inquire about your desired wire form.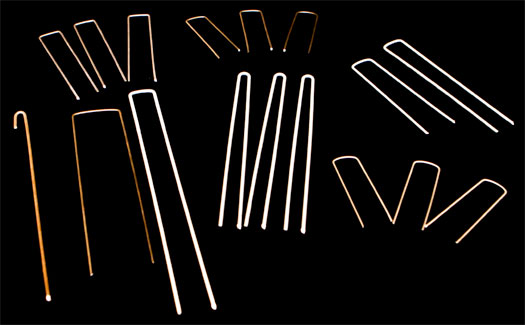 T-Post Clips are available in a variety of packaging options. We produce bagged clips and clips on tape. T-Post Clips are available in diameters ranging from .105". up to .120", in both Class 1 or Class 3 coatings.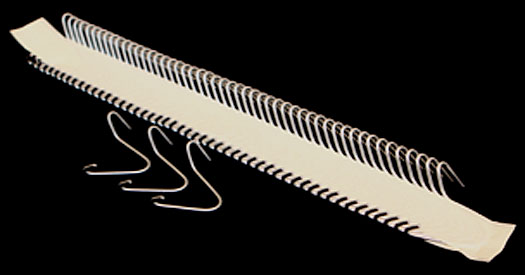 Fence Post Staples are manufactured in lengths ranging from 1'' up to 2.5''. Staples are sold in "Smooth", "Single-Barbed" or "Double–Barbed" styles. Wire diameters range from 10 gauge up to 8 gauge. Available in Bright Basic, Class 1 or Class 3 coatings.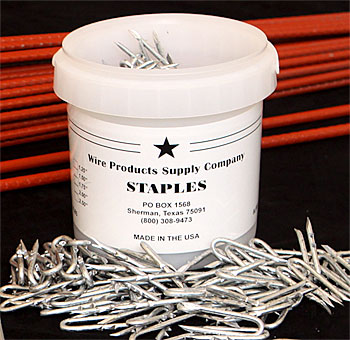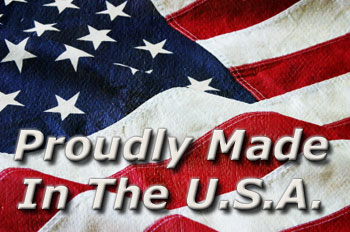 All of the items made by Wire Products Supply Company are proudly made in the USA, in the great state of Texas, with 100% American materials.
In addition to our very own US made products, we have the ability to import the following:
Poultry Netting
Tie Wire
Hardware Cloth
Circle Top Pins
Washer Pins