Wire Products Supply Company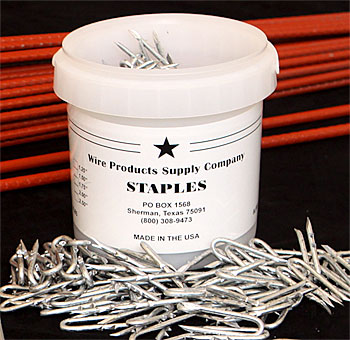 Wire Products Supply Company is the leading provider for all of your wire product needs. Our wide selection of custom manufactured products have a variety of uses and can withstand the test of time. We offer every-thing from custom sod staples to electric fence posts.
Our focus is to provide customers with top quality wire products at affordable prices. Our family-owned and operated business thrives on long-term relationships and great customer service. We were built on customer satisfaction and we intend to impress you with our service. You can count on us for better quality and lower prices than our competitors.
If there is anything that you have questions about on our website or if you'd like to get more information on any of the products that you see listed on our products page, please give us a call and one of our salespeople will be happy to assist you.
Anyone who has installed wire fencing on T-posts knows all too well the frustration of trying to pick one clip out of a tangled mass of wire clips in plastic bag. How much time does it take, per clip, to extract the single from the many? Three seconds? Five? When that process is repeated hundreds of times per day, the effect really adds up!
Our clips on tape are an answer to that age-old problem. In quantities of 25 or 50, you can carry a length of tape with clips attached in a row, never tangled. What a great feature! Have a look at our "Products" page for photos and other great products.
Sod Staples: the unsung hero of landscapers and gardeners!
These simple wire clips are made, sold, installed, and reused by the ton across the world. What are they for? Landscapers use them to tack down weed control fabric. Civil engineers use them to secure erosion control blankets and geotextiles. And gardeners use staples to hold irrigation lines in place.
Staples made from galvanized wire are able to withstand the elements for a longer period of time than non-galvanized. Depending on your requirements, galvanized could be the right option. Do you want to remove and re-use them for several seasons? Galvanized is for you! The non-galvanized variant is better if you plan to leave yours in the soil. At the time of installation, they are strong enough to be pressed into the soil. As the metal is dissolved over time, the surface becomes pitted and will grip the surrounding soil better. A staple pushed so that the top is flush with the surface of the soil will pose no future threat to lawnmowers. They also come in varying lengths and thicknesses, for use in looser or harder soils. Longer staples for loose soil, shorter staples for hard packed soil.
Sod staples are also known as ground clips, landscape or garden staples, and sometimes fabric pins. Whatever their name, this humble length of wire with two bends serves a vital purpose!
We live and work where you live and work. Decades of industry-leading quality and service have given us the knowledge, experience, industry connections, and equipment to get the job done at competitive prices. We make the products you need, right in your backyard! Whether your job requires landscaping staples, fence clips or staples, electric fence posts, or custom CNC-produced specialty items, get in touch with our expert sales staff and we will work to earn your business.
Our roots go deep. Our products are time-tested and field-proven. Where others find shortcuts to pad their bottom line, we maintain the practices that consistently produce the quality you need, at the time you need it. In a world that too often looks before it leaps, Wire Products Supply Co. is poised for the future with our feet planted on the foundation of integrity and proven processes that have stood the test of time.